Hello, Friends and Family,
Life can feel full of setbacks.  All very random and of varying degrees.  Not sure I would have predicted having a stroke in 2021 but it happened.  Setbacks can also be opportunities given the proper perspective.  Back when I was looking for my first job out of college, I was denied a job with a technology consulting company in the Washington D.C. area mostly because of a technicality in my application.  At the time, I was crushed mostly because I was still learning that "setbacks" were ok.  But soon after I got that rejection letter, I got invited to join a weekend of interviewing at a technology firm in San Francisco to which I accepted a job, found a group of amazingly smart technology friends that I am still friends today and of course, met my wife and mother of the my two beautiful girls. That rejection changed my life trajectory forever.  Opportunity.          
Setbacks are opportunities.  Opportunity for an alternate path.  Opportunity for growth.  Opportunity for learning.  Opportunity for motivation.  Opportunity for drive.  Opportunity for focus.  Opportunity for  humility.  Opportunity for empathy. 
And what gets you through the setbacks? Perspective and hard work.
My goal is to come back 125% from this stroke and use this moment as an opportunity for positive change. My recovery has been going very well. Recovering from anything brain related is a new experience for me. I have never had an head injury before. The brain seems to recover differently than other area of the body. It needs rest, sleep, hydration, proper stimulation and all with the proper amount of time. Through this process I've really wanted to test aspects of my brain like a program running self diagnostics on itself to see how things are "coming back online". How are my gross motor skills? How are my fine motor skills? How is my long term memory? How is my short terms memory? How is my cognitive thinking? How are my emotions? How are my behaviors? Has anything changed?
In the hospital, I took the NIH Stroke Scale Assessment and a variation of the Montreal Cognitive Assessment test numerous times. One of the questions on the cognitive assessment test is being given 5 random words, committing them to memory and recalling them 5-10 minutes later. This test was popularized when President Donald Trump said he "passed this test with flying colors" — his five words were "Person, Woman, Man, Camera, TV" and they ended up being an internet sensation.
My words were "Apple, Pen, Tie, Car, House". I'll never forget those words now. As Sarah will tell you, I sometimes have a problem being "present in the moment" because we're all self diagnosed with some form of attention deficit disorder (ADD) and then blame social media. Well, at the time I was so paranoid about the test that I literally burned those words into my brain. Now, I will remember them forever. At home, I find myself easing into physical and mental acuity drills just to see how sharp I am. Secretly, I wonder if the new found brain blood circulation will unlock new comic book like brain super powers! Nope. That has not happened. (yet)

While at the hospital I was provided these cool orange socks with "grippy" material at the bottom of them — clearly to prevent recreation of Tom Cruise's scene from Risky Business. Random unverified fact from the internet is that the sock colors you are given mean something. Feels super logical but I'm not sure if its true.
Red socks indicate allergies; orange means the patient is a potential flight risk, and purple signals "do not resuscitate." Like a neon sign, the socks are bright cues to all hospital staff. It's the yellow socks that scream the loudest, demanding the most attention. Patients wearing yellow socks have been identified as being most at risk of falling. And falls can easily lead to broken bones, head injuries, longer stays in the hospital, increased costs and liability, and in the most severe cases, death.

[Reference]

The orange socks meant that I was a flight risk! Marked like Andy Dufresne from Shawshank Redemption. Rest assured, I wasn't planning to break out of my stay there.

Being discharged was a glorious moment. I appreciated every moment of my time in the hospital but it was time to go home. My dad (who is an Endocrinologist) had warned me that patients can experience a "high" leaving the hospital but that will come down and may even experience a setback in their recovery when they get home. He said to take it easy and not to jump back into things quickly. Wise words. I went home that day feeling great but then I actually fell down two stairs after everyone had gone to bed. I jumped up and laughed thinking to myself, "Whoa, it's like I had a stroke or something." It was at that moment that realized I probably needed the time to heal and this was a very different injury that I had experienced before. I should have had my yellow socks on. They would have protected me.
Now, for some thanks. Holy smokes the support was overwhelming. Sarah was at my side all day long. We joked it was the most dedicated time we spent without the kids in a long time! Our new friends in Park City sent so much food and support. All of our friends and family filled my phone with messages of support and offers to help. My CEO and co-workers just told me to relax and heal. That part was very hard for me as a chronic workaholic but I needed all the healing time I think. My old CrossFit box sent me a box of messages! I couldn't ask for anything more from my people. Sarah and I are so grateful.

So, what am I doing during my downtime. Finally got the time to read Frank Herber's Dune. I'm a huge sci-fi fan and this had been in my reading list for a long time. It did not disappoint and neither did the new movie for that matter.
"The mystery of life isn't a problem to solve, but a reality to experience."

― Frank Herbert, Dune
Our dog is getting lots of walking. I'm easing myself into physical activity again. I was scheduled to do a half-marathon in January but that probably isn't going to happen. I'll be getting back at Park City Fit in January on a modified workout regimen. The days of super heavy lifting is probably limited these days but my CrossFit friends would probably say I never lifted heavy anyway. Haha.
I've also been spending a lot of time trying to work my way through our medical system. It seems that acute symptoms get immediate attention but those with moderate symptoms can get lost in the shuffle. It took me close to a month to get a referral from one medical organization to another accepted and a doctor appointment scheduled. It involved dozens of phone calls and offering to purchase a new fax machine that was involved in the process. Yes, there is one actual fax machine that accepts all the referrals and it was broken for days. I'm grateful for the medical system we have but there are aspects that ripe for innovation — and by innovation I mean stop using a friggin' fax machine from 1985. However, the bills got to me like butter on a hot piece of toast.
Checking … Apple, Pen, Tie, Car, House … yup, still ok.
Few things I'm keeping an eye out on —
I'm keeping an eye out on is being hit by another stroke. I have a much higher likelihood of having another stroke within the first three months of had one.
How the heck did this happen to me? The doctors might never know.
You might be asking yourself why am I being so open about having a stroke? Well, I really do think that stroke awareness is a real thing. I really didn't know much about strokes before this or what to do when they happened. I just got lucky. Folks need to know that strokes can happen to anyone, anytime and anywhere. Folks needs to know the symptoms and what to do when it happens.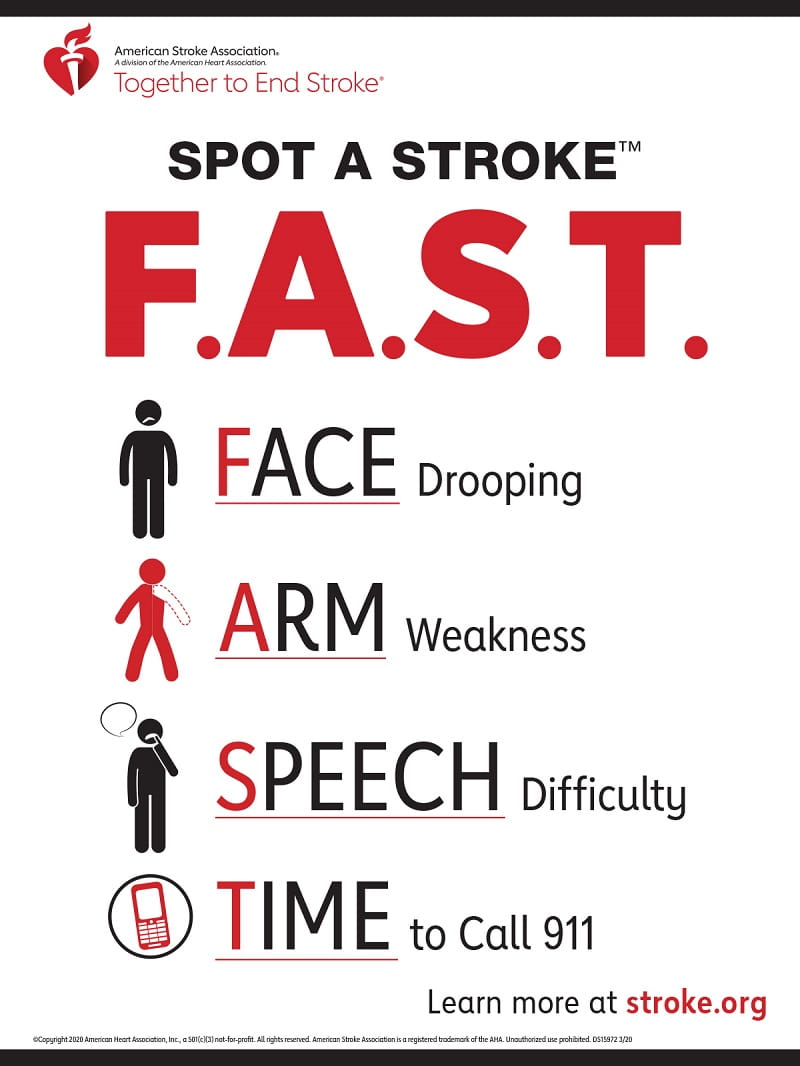 The other thing I'm committing to is raising and donating $10,000 to stroke research and awareness in 2022. I'm not sure how yet because I want to find the right charity. It might be that I start my own non-profit in 2022 that is focused on this but that will be for a future blog post. Stay tuned.
I truly believe Sarah, my dad, my response and medical staff saved me from long term damage or even saved my life all together. Will never forget Sarah telling, "Call your dad, you might be having a stroke."
Do I think being so open about having a stroke might impact if folks might look at me differently or my employability? Whatever, if I can help one person be more aware of strokes then its worth it. Don't hire or invest in me. You'll regret it. #125percent
Hope you found my post interesting! Comment or reach out!